When it comes to antiques and collectibles, most people are thinking about two things. First and foremost, antiques are associated with museum-quality and luxurious items, such as ancient vases, designer furniture, and exclusive knickknacks. Another thing that usually comes to mind is money, aka investment. Truth be told, a limited collection of some atypical antique pieces can be quite a favorable and profitable way of putting up the money in a long-term perspective.
These two essential perceptions make antiques and collectibles desired pieces for scores of people, especially those who are traveling with a single thought to unearth some valuables in a curio shop.
This is where troubles and hassles begin to appear in droves. If you have seen something so close to your heart that you cannot fight against the temptation to buy it, you should think about how you are going to ship it to your home, which is thousands of miles away. In case you do not want to carry the whole load on your way back home by yourself, you will probably need professional shippers.
From the beginning, everything seems surprisingly simple. There are mainly two ways out: either to reach out to a standard delivery company or to hire a specialized antiques and collectibles shipping agency. The choice is yours! However, keep in mind that the process of shipping valuables implies a more sophisticated procedure as compared to shipping most other items, involving a heap of nuances and peculiarities that must be considered. The task of this article is to give you an insight into the international shipping of antiques and collectibles and tell you about its most basic principles. So, let's start!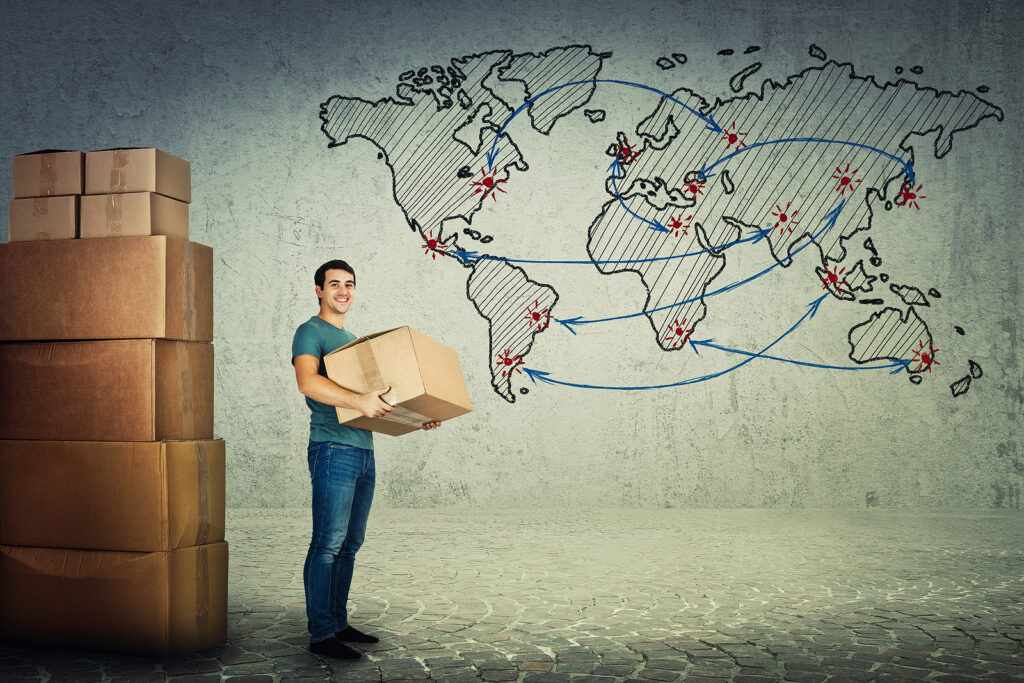 Who will be in charge of shipping?
The process of shipping antiques overseas is almost always the same. Here is a quick overview. There are two countries, country A and country B. In country A, which is the country of departure, you need to find someone who will pack, load, and deliver the package to a seaport or airport. Everything goes identically in country B, which is the country of destination, but the other way round. So, who is to be chosen?
If you have gotten stuck on the question of who is better for global delivery, take into account the following information. National postal services have their offices in many corners of the planet. However, many of them are notoriously known for their slow services as compared to private international delivery companies that are a fair opportunity to spare some time and nerves. One more option, and the best one for shipping antiques and collectibles overseas, is a specialized fine art shipping company. Such companies deal with valuable and fragile items all the time, and they can deliver your items to literally anywhere in the world at a reasonable price.
The abovementioned description does not pretend to be ultimately true and universal, but it does hit the mark with the majority of cases that you can encounter. You should choose carefully, considering your budget and the desired time of delivery. While it has become clearer with money now, the matter of time is still to be addressed. The same as with the shippers, you have a fairly scanty choice, but believe it, it would be enough. Nowadays, it is common to deliver either by air or by sea. Each variant has its pros and cons that you can find below.
Sea vs. Air? What is better for shipping?
As you might have already guessed, the biggest distinctions between air and sea shipping are time and cost, but it does not mean that these are the only differences. There are more of them, but let's look at the most significant.
Cost
Ocean freight rates are markedly less expensive than air freight rates. Sometimes, the price can be half as high.
Time
If you take time as a measure of difference, air wins a lopsided victory. The air delivery time is up to two weeks, whereas the delivery time of sea freight ranges from five to ten weeks. Moreover, ships are more likely to stop at on-way seaports, which takes quite a time.
Safety
This is another easy win for air freight. Items shipped by sea tend to be exposed to damage more often than those shipped by air.
Paperwork
It would be fair to say that this is a draw. The amount of paperwork does not really change much in both cases; you need to handle a pile of almost the same documents for both types of delivery.
General recommendations
Now that you know your shipping options and available modes of transport, the only thing that remains is to pay heed to the general recommendations that will help you avoid frequent problems and improve the overall experience.
1. Better plan beforehand
If you plan a visit to another country with the purpose of buying some rare items, it won't harm if you discuss your options with the shipping company beforehand.
2. Consider other services
Shipping antiques and collectibles overseas is not only about the very process of transportation. It is also about packing, crating, obtaining import/export permits, handling customs documentation, and many more. You can certainly handle every stage of the shipping process separately, but there is a much better alternative to it. You may hire a full-service international art logistics company, such as the NYC-based Fine Art Shippers, which will handle the entire process of shipping antiques for you. Thus, you will get all the needed services in one bundle.
3. Shipping might be a bad option
Yes, that is possible too. Shipping objects overseas is pretty expensive, so make sure your purchase is worth it, taking into account all the expenses and effort you put into it.
Hopefully, this information will come in handy whenever you decide to update your collection of antiques and collectibles with new valuable items. International shipping is a superb chance to immerse yourself into the world of fresh emotions and undiscovered cultures, so you should not waste it by any means.